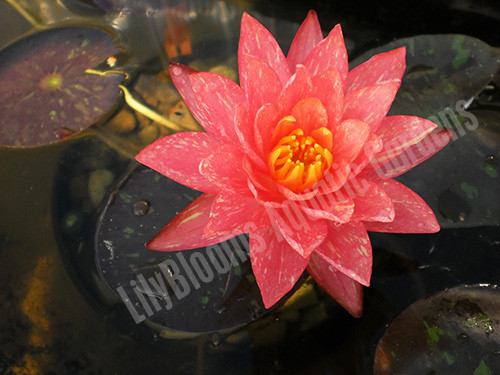 Hardy water lilies are a time tested favorite for water gardens.Hardy water lilies are a perennial pond plant that provides both color and shade to your pond. The leaves of hardy water lilies provide a place for small pond fish to hide from predators. We have red, white, pink, yellow, peach-orange, and changeable hardy water lilies for sale.
Wanvisa is finally here. Wanvisa was voted 2010's best new water lily of the year. Wanvisa is a fast grower and a great bloomer, showcasing features that have never been seen in a hardy water lily before. The lily pads feature splashes green and burgundy mixed together, and the blooms feature dashes of yellow throughout deep peach/pink flowers. Wanvisa is sure to be a pleasing lily for any water garden enthusiast.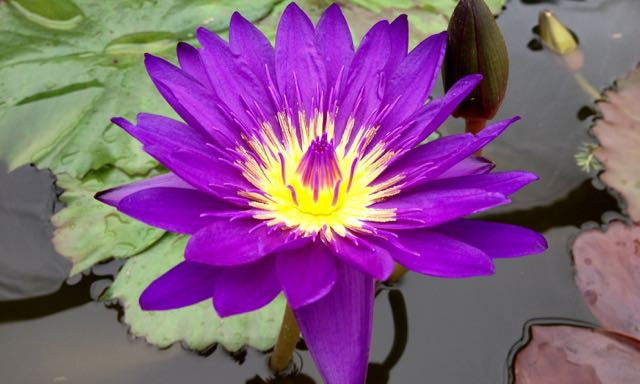 Tropical water lilies are a luxury pond plant. Tropical water lilies cost more and in most planting zones will only survive one season, but Tropical water lilies offer some of the most beautiful blooms. In general tropical water lilies are have larger leaves and bloom more often than hardy water lilies. We have blue, green, purple, red, pink, and yellow tropical water lilies for sale.
Inter-mixed purple and green make the leaves of the Leopardess water lily quite striking. Large blue full blooms make the Leopardess one of the most eye catching tropical water lilies in our selection. The Leopardess, an excellent bloomer, would make a great tropical water lily for your pond.
Our unsorted water lilies are the best price. The unsorted water lilies are sold by color. Unsorted water lilies are one of our named varieties that has grown in a mixed pond of the same color water lilies, so the exact variety is unknown. We have red, peach/orange, yellow, white, pink, and changeable unsorted water lilies for sale.